Faraday House, Home of SU London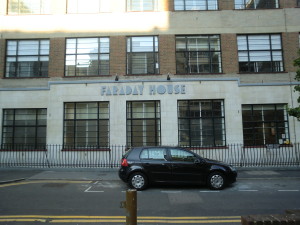 Faraday House has been the home of the SU London Program since August 2005. Based in Central London, Faraday House is not your typical university campus. The building is located just three minutes' walk from Holborn Tube Station, serving two Underground lines – the Picadilly Line and the Central Line. The Eurostar terminal, St Pancras Intl, is ten minutes' walk away and has rail links to Paris and Brussels.
SU London is within very close proximity to many West End shows, bustling shopping districts, great restaurants and wonderful cultural sites.
Faraday House's location in central London
It is Syracuse University's policy to provide anyone, on request, with a printed copy of the University's policies and procedures regarding campus security and safety, as well as crime rates and statistics for the most recent three-year period. A copy of Your Safety and Security at Syracuse University, a handbook that provides this information, is available from DPS. The University's crime information is also posted on the U.S. Department of Education website .