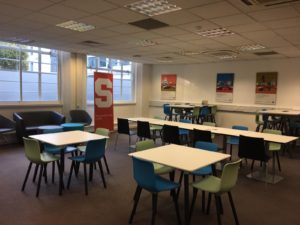 Faraday House has been the home of Syracuse University in the United Kingdom since August 2005. Based in the heart of central academic London (just minutes away from LSE, UCL, SOAS, and King's College London), Faraday House is not your typical university campus. The building is just round the corner from the Holborn Tube Station and a short walk from the iconic King's Cross Station. The Piccadilly Line from Holborn takes you directly to Heathrow Airport, while EuroStar Trains to Paris, Amsterdam, and Brussels depart from St. Pancras International (right next to King's Cross). While we have great facilities in Faraday House – including an auditorium, architecture and design studio, and computer lab – our professors also make use of the rest of London as a classroom. Faraday House is in close proximity to West End Shows, bustling shopping districts, diverse restaurants, and cultural sites. Students can move from working on coursework in our lounge to viewing the Parthenon Marbles at the British Museums, browsing art in Covent Garden, or picnicking in Russell Square in just ten minutes.
Our address is:
Faraday House
48-51 Old Gloucester Street
London, WC1N 3AE
United Kingdom
Campus Safety
During our Arrivals & Orientation program, students will receive tours of Faraday House and get to know their new campus. They will also receive campus cards giving them access to our space. While London is a big city, it is also quite a safe city, and the Syracuse London staff all work to ensure student and campus security. It is Syracuse University's policy to provide anyone, on request, with a printed copy of the University's policies and procedures regarding campus security and safety, as well as crime rates and statistics for the most recent three-year period. A copy of Your Safety and Security at Syracuse University, a handbook that provides this information, is available. The University's crime information is also posted on the U.S. Department of Education website .