This work was produced as part of the Communications Design Problems practical course, which allows students to create in-depth projects reflecting issues of interest.
Here, Grace Fox blends humanity's morbid curiosity of Tudor-era beheadings and society's fascination with Victorian culture to design a new kind of haircare.

Syracuse London's special Design Program offers participants the opportunity to take a course in design history, complemented by studio and academic electives in a world capital renowned for its cutting-edge design. Multidisciplinary subject areas allow students to dive deeper into industrial and interaction design, interior and environmental design, or communications design.
By working in a collaborative studio environment and making frequent excursions into the city, the program helps students to better understand London and the United Kingdom while learning how design saturates everyday life and defines people's experiences in an urban environment.
Capital Hair Dye
by Grace Fox
Ever since visiting the Tower of London, I have been fascinated with the gruesome and dark nature of the stories. The ones that stuck with me the most were those of beheadings. From the start of this project, I knew that I wanted to somehow create a brand that incapsulates the UK on different levels.
Capital Hair Dye aims to merge British humor with its history of beheadings, creating an ironic and bemusing cosmetic line to "dye" for. The design is inspired by classic Victorian but executed with a modern flair.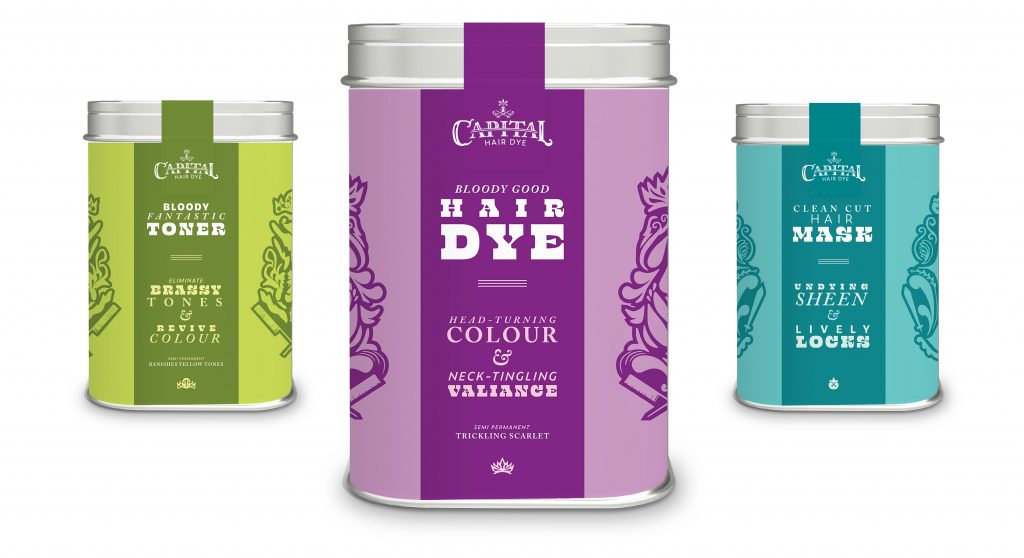 Being in London pushed me look at things with a different perspective. They have a very different outlook on life than Americans do, and I wanted to get in touch with what living in London is truly like. Learning about the rich history and culture allowed me to situate myself more within London and begin to expand my global perspective in depth. Looking back on my experience, I now know how to bring in different views on my work that will draw me to go further or dig deeper.