In this assignment, students are asked to write a profile of a Bloomsbury institution, positioning themselves as a contributor to a publication. The chosen subject can be past or present, and is meant to be a 'micro history' of a relatively unknown corner of London that nevertheless has rich layers.

Here, Jennie Jacobs examines one of University College London's public outreach and archive collection centres.
In 1800, central London's Bloomsbury neighbourhood was little better than a swamp. A century later, it had become the intellectual and cultural powerhouse of the world's biggest empire. Local residents are among England's most famous names: Dickens, Darwin, Yeats, Woolf. Thousands have journeyed from all around the world to study here, including Gandhi, Kwame Nkrumah (first Prime Minister of independent Ghana), and Paul Robeson (the African American superstar bass, actor and political activist).
The London's Living History class explores how this change came about. Students walk in distinguished footsteps to immerse in raw materials of history. Weekly tours, field visits, and archival work with primary sources such as news clippings, maps, and street directories help students to examine and write histories that have never been told before.
London's Last Remaining University Zoological Museum
by Jennie Jacobs
The Grant Museum of Zoology is a relatively hidden gem right in the heart of Bloomsbury. It is owned by the University College of London (UCL) and has existed since 1827 when it was created by Robert Edmond Grant. Robert Edmond Grant was the UCL's, and England's, first professor of zoology and comparative anatomy. Prior to his time at UCL, Grant taught medicine at Edinburg University, where one of his students was Charles Darwin. In fact, the museum itself used to be housed in UCL's Darwin Building, but in 2011, it was moved to the Rockefeller building and resembles a Victorian cabinet of curiosities with its wooden and glass cases, and seemingly endless drawers full of objects.
At UCL, Grant created the museum as a teaching collection to provide the students with an immersive learning experience. Because of this, the museum has less taxidermy than its fellow natural history museums and has more skeletons instead. The museum also has had additions from its multiple curators since Grant as well as from other institutions such as specimens from The Imperial College of London, Queen Mary University of London, and from several London hospital comparative anatomy collections. The museum has about 68,000 zoological specimens but can only have about 7% of their entire collection on display at one time. The entire catalogue is available online, though not every specimen has images available. The rest of the collection is also available for research purposes.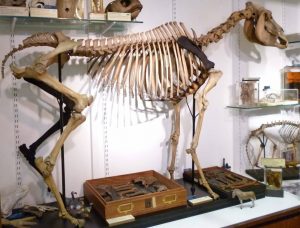 One of the most famous pieces within the museum is the skeleton of the quagga. The Grant Museum of Zoology has one of seven known skeletons of the quagga, which makes this specimen considered one of the rarest skeletons in the world. The quagga was an extinct type of zebra that went extinct in 1883. The museum is home to skeletons of other extinct species such as the Tasmanian Tiger, which was hunted to extinction by British colonists in the early 20th century. This provides an explanation why the museum has the skeleton in the first place, as well as providing relevant historical context about the animal itself. It is interesting to consider the connection between British history and the specimens in the museum, as often times one may merely think about the objects through a scientific lens, however, they too provide a historical understanding of not only how the teaching of zoology developed over the years, but also the relationships in which the UK had as a nation, and what resources were available and why.
Another potential connection to Britain's colonial past is the specimen of a shipworm that was found in Bristol in the 19th century. Shipworms eat wood, which is why they are commonly referred to as "shipworms". Shipworms are a type of mollusk and have been largely found in the coast of Africa and the Caribbean. With a historical frame of reference, you may recognize this region as being a major site of the British transatlantic slave trade, thus, this shipworm on display has potential to not only just be a visual example of the animal itself, but also a nod to Britain's colonial past.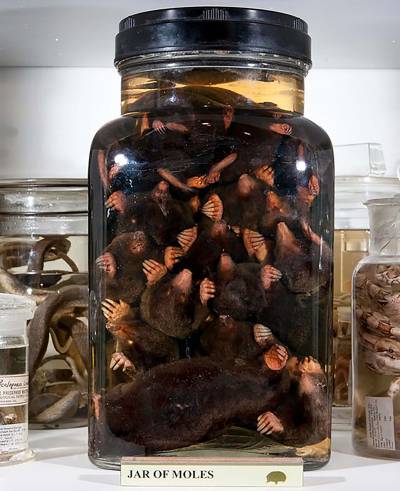 Of course, as the collection is so massive, explanations like these are rare for most of the specimens, and a fair number of objects even remain a mystery, to this day, to the museum. Some specimens are considered mysteries due to illegible labels, damage to their labels, or a lack of labels altogether. Some objects can be reassessed and reconsidered too. In fact, the quagga was mis-labeled as a zebra until 1975, when it was re-assessed and determined to be a quagga. There are also many objects that are a bit odd and their potential relevance within the collection in connection to their teaching purposes are uncertain. One example of this is a crowd favorite, the museum's jar of moles. There are 18 moles within a jar preserved in fluid.
I recommend that everyone should visit The Grant Museum of Zoology, as there is always something new to discover and learn about, the admission is free, and it only became open to the public in 1996, though it has been in continuous use by students since its creation. The small building of the museum provides any visitor with an intimate experience with such rare objects. One other notable exhibit of the museum, that is also unique compared to museums of similar nature, is the Micrarium. The Micrarium focuses on microscopic organisms, as they say that more than 95% of animals on earth are smaller than the human thumb. You would not find an entire exhibit dedicated to these creatures in any other museum, as most tend to have taxidermy and large models, for example typically those of dinosaurs. But at the Grant, you can see an exhibit with around 20,000 microscopic slides, including parts of animals such as mammoth hair and flea legs but also entire organisms such as a snipe fly or a very small squid.
Even if you cannot visit the museum in person, it is still worthwhile to browse their online course catalogue. There, you may have a similar experience to visiting the museum, as you will see objects you never considered before. For example, I was impressed and surprised to see a preserved connected brain and eyeballs of a domestic dog, as well as the preserved juvenile specimen of a koala in fluid in a jar. The Grant Museum of Zoology is one of the oldest natural history collections in the UK and is the only remaining university zoology museum in London. The museum prides itself in having specimens from the whole animal kingdom.