This work was produced as part of the Communications Design Problems practical course. Guided site visits, peer reviews, and studio time allow students to create in-depth projects reflecting issues of interest.
Here, Liran Federmann uses the course's Publication Assignment to capture research about London through a variety of maps.

Syracuse London's special Design Program offers participants the opportunity to take a course in design history, complemented by studio and academic electives in a world capital renowned for its cutting-edge design. Multidisciplinary subject areas allow students to dive deeper into industrial and interaction design, interior and environmental design, or communications design.
By working in a collaborative studio environment and making frequent excursions into the city, the program helps students to better understand London and the United Kingdom while learning how design saturates everyday life and defines people's experiences in an urban environment.
Mapping London: A Visual Depiction of a City's Data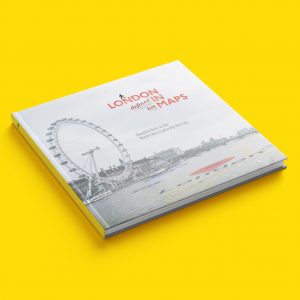 From my first day in London, I was blown away by how easily navigable the city was, especially for a newcomer. I took the Tube from Heathrow when I landed for the first time…and with nothing but public maps and signs – I hadn't yet set up my phone – I found my way to the door of my flat.
Throughout my semester abroad, I continued to be impressed by London's public wayfinding system. The designer in me took intentional note in order to better understand just how and why it is so amazing and efficient.
As a designer and traveller, maps became something of both personal and professional interest to me. This project became a chance to integrate wayfinding graphics into my studio practice. The opportunity to build on London's graphic system felt too good to pass up!
Ironically, I only had the idea to create this book about London after returning home to the United States. It has come to represent for me a chance to continue exploring from home and reference new ideas in classic spaces. The result is a 10"x10" compilation of infographics and maps, blended to provide a glance into London as a city. I took inspiration from ski resort brochures, regional and country tourist maps, and airline flight pattern depictions.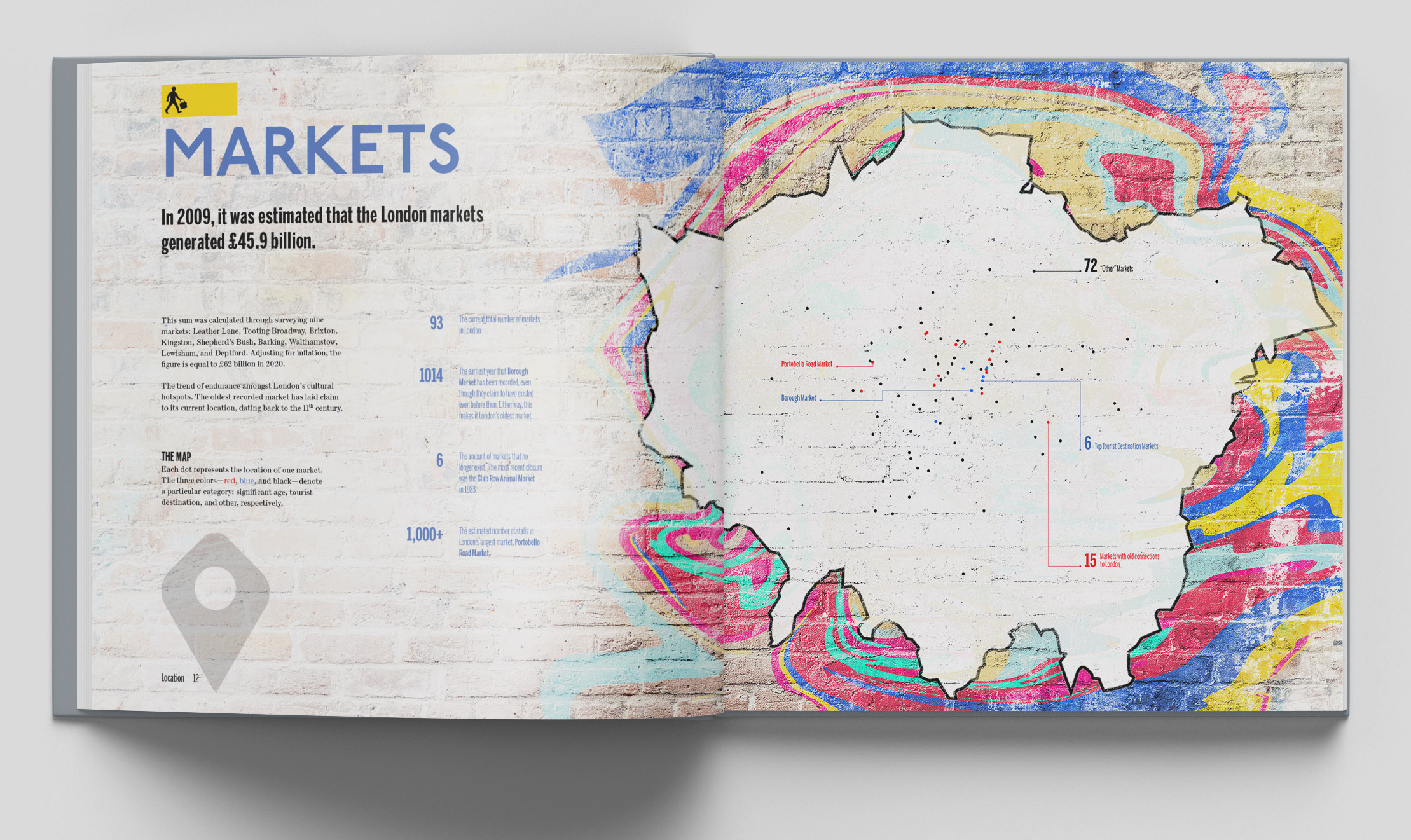 With this publication, I wanted to highlight London's fantastic history and culture while addressing the difficulties of wading through the oversaturation of fascinating maps available. This book solves that problem for readers, with its design as much about the curation as it is the presentation of information.
The verb "to map" can also mean to portray or depict, which is exactly what this book does through a carefully cultivated collection constructing an accurate and aesthetic image of London. Included maps depict the city's Underground, markets, religious diversity, pubs, postcodes, and football stadiums.

The cover image for this page is part of another designer's map, a Syracuse London staff favourite that blends the graphics of the London Tube map with the Roman roads of Britain. Check out more of Sasha Trubetskoy's cartography: sashamaps.net.