In this assignment, students are asked to write a profile of a Bloomsbury institution, positioning themselves as a contributor to a publication. The chosen subject can be past or present, and is meant to be a 'micro history' of a relatively unknown corner of London that nevertheless has rich layers.

Here, Jacob Wolf examines a small but beloved toy shop-turned-museum located in a Georgian townhouse near Goodge Street.
In 1800, central London's Bloomsbury neighbourhood was little better than a swamp. A century later, it had become the intellectual and cultural powerhouse of the world's biggest empire. Local residents are among England's most famous names: Dickens, Darwin, Yeats, Woolf. Thousands have journeyed from all around the world to study here, including Gandhi, Kwame Nkrumah (first Prime Minister of independent Ghana), and Paul Robeson (the African American superstar bass, actor and political activist).
The London's Living History class explores how this change came about. Students walk in distinguished footsteps to immerse in raw materials of history. Weekly tours, field visits, and archival work with primary sources such as news clippings, maps, and street directories help students to examine and write histories that have never been told before.
Take a Walk Through the History of Childhood Memories at Pollock's Toy Museum
by Jacob Wolf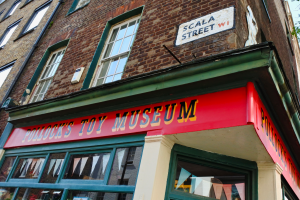 With the recent spread of coronavirus, families have been quarantined at home and forced to find ways to entertain themselves without leaving the house. This generation is lucky enough to have technology including television and the Internet, but how did societies keep themselves amused before this technology? Pollock's Toy Museum in Bloomsbury takes visitors back in time to see the dolls, games and other toys that have been used throughout history.
The museum is located near Goodge Street Station, with a colorful exterior that is sure to make for an artsy Instagram photo. Packed into a small Georgian townhouse, the museum is open from Monday to Saturday from 10 am to 5 pm. The museum is easy to spot with a vibrant red sign across the entrance and green framing. The windows are filled with toys and games to attract visitors and draw interest.
Pollock's Toy Museum contains a wide variety of over 4,000 toys from different eras across history. Their comprehensive assortment includes board games, dollhouses, teddy bears and more. For only 7 pounds, adult visitors can reminisce about their childhood memories with toys from their own generations, or see how their ancestors lived with antique toys from historical periods. Children are admitted for a discounted fee of 4 pounds, while seniors can get in for 6 pounds.
The museum is known for its Victorian Era toys, with the majority of its toys coming from that time period. Their Victorian Era collection is made up of wax and china dolls, nursery furniture, and other toys of the time period. The toys are spread across 6 different rooms that are connected by creaky old staircases winding around the building, giving an authentic retro feel to the museum. One room contains a large case of hundreds of Victorian dolls that is fascinating yet creepy. Visitors can also see a restored nursery from the Victorian Era. The ground floor of the museum is made up of a gift shop that sells toys that are more modernized, such as pop guns, toy trucks, and tea sets.
Beyond the museum's Victorian era collection, they have a significant number of toys from around the globe. The museum's first room contains a collection of American toys, as well as toys from World War I. This includes a replica tank and German toy fort from the war. The museum also owns wax dolls from the early 19th century, as well as a teddy bear display. The star of the museum's teddy bear collection is the world's oldest bear named "Teddy" that was originally made in 1905.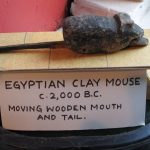 Modern toys can also be found throughout the museum, from GI Joe action figures to board games like Snakes and Ladders. The oldest toy in the museum is a clay mouse with a moving wooden mouth and tail that was originally from Egypt. The mouse's history dates back to 2000 BC, making it over 4000 years old. The mouse was donated by an archaeologist and is part of the museum's storied history.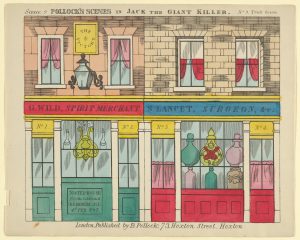 Legendary toy manufacturer Benjamin Pollock opened the museum as a toy shop around 1850 to sell his toy theatres. The shop survived until the building was bombed in World War II. Pollock had removed his collection prior to the bombing and sold it to Marguerite Fawdry, who loved toy theatres.
In 1956, Fawdry reopened the shop as a museum on Monmouth Street in Covent Garden. The museum quickly outgrew its single attic room and expanded into other rooms while adding a toy shop on the second floor. By 1969, the business was thriving and moved to 1 Scala Street, where the museum currently resides. The Fawdry family passed ownership of the museum down through generations and Eddy Fawdry is the current owner. Eddy Fawdry has owned the museum for 13 years and strolls around the museum to greet visitors with his poodle, Haggis.
The museum originally gained popularity for its collection of toy theatres created by Pollock. Pollock, the son of a Jewish family that immigrated from Poland in the early 19th century, was one of the last traditional Victorian toy theatre printers. The museum still contains toy theatre sheets originally published by Pollock. These toy theatres allowed children to perform parts in a play using characters and props with a script. Popular among children with vivid imaginations, these theatres have attracted various famous visitors to Pollock's museum. The museum has seen celebrities such as David Bowie and Angelina Jolie browse through its historic collection of toys.
London natives and tourists looking for a glimpse into the past have frequented the museum and it has become more popular through the years. The museum has received many donations from visitors and continues to add to their assemblage of toys. Fawdry also has followed his grandmother Marguerite in purchasing collections of toys to improve the museum.
While many visitors may think to bring their children to a toy museum, Pollock's is actually better suited for those with more life experience. Young children can be easily bored and frustrated when they are not allowed to touch the antique toys. Older children and adults will be more content to view these relics and compare them to their own childhood memories, while learning about children and toys in previous generations.
The museum hosts various lectures and events to educate visitors about the art of toy manufacturing and other toy-related topics. During holidays and other busy weekends, the museum puts on live shows with authentic toy theatres from Victorian times. There is no better place throughout London to step into the shoes of a Victorian child and experience an authentic journey through the toys of the world.