Syracuse University London invites you to join us in building a "Brave Space".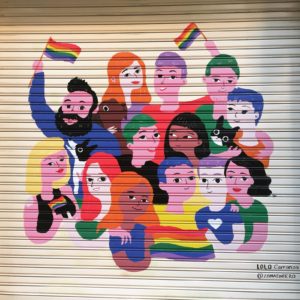 We will be celebrating LGBT History Month in the UK by hosting an open gallery space in the Faraday House Student Lounge during the last week of February 2019.
On Wednesday 27 February from 5:30-7:30pm, our Symposium on "Brave Space: Queer Histories and Identities in London" invites students and the public to an evening exploring the experiences – positive and negative – of LGBT+ persons and politics. The Faraday House Student Lounge will be transformed into an exhibition gallery of research and multimedia art taking attendees on a journey through queer London. Audience conversations will be supplemented by musical, spoken word, and theatrical interjections recognising diverse identities around the world.
The title for our Queer Histories Symposium is inspired by Micky ScottBey Jones' poem, "Invitation to Brave Space". The poem recognises that we do not live in a safe space, as hate crime and prejudice are still far too real. We can, though, work together toward recognition, celebration, and protection of diversity and inclusion in all its forms: http://www.mickyscottbeyjones.com/invitation-to-brave-space/. Our goal with this Exhibit and Symposium is to do exactly that.
The "Brave Space" Symposium is free and open to the public. Dinner will be served.
If you have a piece you would like to exhibit or share – or if you would like to attend the evening event – please get in touch via:
Community Relations Manager Becca Farnum (rlfarnum@syr.edu; 02074009310) or
Academic Excellence & Inclusion Coordinator Jovita Adom (joadom@syr.edu; 02074009323).
For more about Diversity & Inclusion at Syracuse London, please see this page. Learn more about our take on global citizenship here.
The header image was taken by Ashley Van Haeften during London Pride 2016.
The image on the left was taken by Jovita Adom of street graffiti in Barcelona, November 2018.