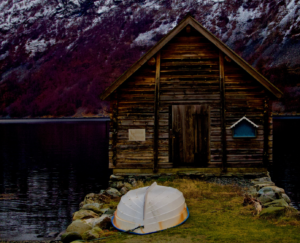 Who am "I" in different spaces?
What does it mean to cross a border?
What is "home" when you are "away"?
Who controls the in-between?
How can I use my privilege to effect change?
These are key questions in global citizenship, through which we challenge the idea of and power behind "borders" – both physical and ideological.
Thirty-one of our students were asked to consider these issues in January 2019 as they launched their semesters abroad by participating in one of our prequel Signature Seminars. Our GEO300 class on "Sustainability and Environmental Justice in Europe" examined how the actions of individuals and governments in one part of the world drastically affect the lives of people across the globe through environmental change, transboundary pollution, and supply chains. The new "Borders in Flux: Identities and Conflict in Ireland" class took students on a journey of exploration around politics, historical narratives, and nationhood. While investigating radically different topics and landscapes, both groups encountered similar themes of power, control, and the interactions between the local and the global.
On Tuesday 5 March 2019, all are invited to a special evening at the Migration Museum to hear from our Signature Seminar students about their encounters with borders, identities, and change. "Betwixt and Between: Questioning Borders through Global Citizenship" will be a celebration of student experience, a commentary on power and politics in the contemporary UK, and a call to action on how we as individuals can make a difference.
The "Questioning Borders" Symposium is free and open to the public, and includes a guided tour of the "Room to Breathe" Exhibit at the Migration Museum. Refreshments will be served. If you would like to attend the evening event, please get in touch with Community Relations Manager Becca Farnum via rlfarnum@syr.edu or 02074009310.
The header image is by January 2019 Sustainability Seminar student Alec Rovensky.
The picture on the left was taken by Alyssa Mahaffey in Flåm, Norway during the same Seminar.