For their studio projects, students were assigned groups and charged with reenvisioning an unbuilt architectural project.
Here, Diego, Jackie, Kaixin, Siraphob, Alec, and Elise work on a built 'forest' around London's Green Belt that creates space for living, co-working, and socialising without infringing on the landscape further afield. They produced a series of conceptual sketches, 3D models, and presentation for a panel of practicing architects.
Architecture is one of Syracuse London's Special Programs, featuring multiple custom courses and studio spaces for the University's renowned School of Architecture. London is an incubator city in that its accelerated pace of development and central position in global trade allow it to test, anticipate, and play out urban formulas and preoccupations pertinent to cities engaged in the new normal of global economic exchange. The London Architecture Program invites students to experience the multifaceted environment of the city, to reflect on its history, and to investigate its most urgent contemporary issues as they play out globally in time.
During the Spring 2019 semester, students worked with the Office for Metropolitan Architecture to examine how architecture can shape social behaviour. A key idea was the "Social Condenser", a spatial idea in architecture using a variety of built elements to encourage different forms of activity through environment.
Ha-Ha Social Condenser
by Diego Becerra, Jackie Doyle, Kaixin Huang, Siraphob Khuptiphongkun, Alec Rovensky, and Elise Zilius
​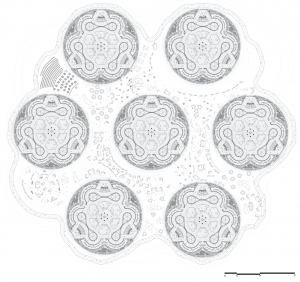 Elaborating on OMA's vision of the Social Condenser, ha-ha seeks to imagine an urban forest that stretches both vertically, into the air in the form of super-thin towers, and horizontally, over the fabric of London's Green Belt. Originally designed as a system of green spaces linked together to limit urban sprawl, the Green Belt has been threatened by the rapid expansion of the city.
This project takes precedent from ha-ha walls, a recessed landscape design element creating a vertical barrier while preserving an uninterrupted view of the landscape beyond.
In our design, daily life is distilled into several moments throughout the day, going from extreme isolation in the towers to extreme collaboration in the social spaces surrounding each tower. The communities thus formed serve as a template to be duplicated at various sites throughout the Green Belt, providing an affordable alternative to life and housing costs in the city. See more in architect Jackie Doyle's portfolio.