For their studio projects, students were assigned groups and charged with reenvisioning an unbuilt architectural project.
Here, Diego, Maria, Kalani, Stephanie, Julia, Jamely, and Alec work on a sea terminal linking Bruges (and the wider European Union) with the UK. The building includes recreation options for tourists, meeting spaces for commuters, and border control areas for governments in a post-Brexit place of interchange.
Architecture is one of Syracuse London's Special Programs, featuring multiple custom courses and studio spaces for the University's renowned School of Architecture. London is an incubator city in that its accelerated pace of development and central position in global trade allow it to test, anticipate, and play out urban formulas and preoccupations pertinent to cities engaged in the new normal of global economic exchange. The London Architecture Program invites students to experience the multifaceted environment of the city, to reflect on its history, and to investigate its most urgent contemporary issues as they play out globally in time.
During the Spring 2019 semester, students worked with the Office for Metropolitan Architecture to examine how architecture can shape social behaviour. A key idea was the "Social Condenser", a spatial idea in architecture using a variety of built elements to encourage different forms of activity through environment.
Zeebrugge Sea Port Terminal
by Diego Becerra, Maria Gutierrez, Kalani Mah, Stephanie Michell, Julia Ocejo, Jamely Ramos, and Alec Rovensky
​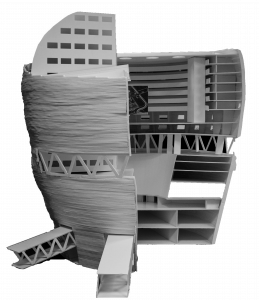 Between 1978 and 1989, the Office for Metropolitan Architecture produced a set of unbuilt projects reinterpreting the idea of the social condenser in a completely different context and historical moment from its Soviet roots. OMA used the idea not as a pedagogical project, but as a tool to intensify the "metropolitan condition" and accelerate the "culture of congestion" that they understood as main qualities of urban life.
The Zeebrugge Sea Port Terminal, a few miles northwest of Bruges, Belgium, is one such unbuilt project. We had the opportunity to access and expand on OMA's plans, creating our own version of the project.
Through models, drawings, and a collection of images, this speculative design attempts to once again reinterpret the idea of the social condenser for today, adapting it to the challenges presented by the United Kingdom's political departure from the European Union.